---
Advertising:
---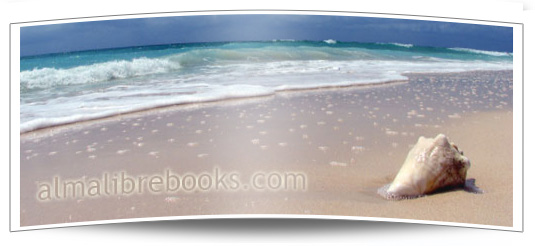 News from Alma Libre Bookstore - Puerto Morelos, Mexico

Year 07 Issue #3 - March 2009

Click here to go to our website: www.almalibrebooks.com
In this issue:
---
Best of Puerto Morelos Survey Results!
The voting is complete and the results are in. For five years now we have been asking our readers what they like best about Puerto Morelos. We ask this because we are curious of course, but we like to compare notes with our visitors to see what they have discovered in our town in case we're missing something! As always, we were delighted to get a lot of responses and we thank you for taking the time. Now, without further ado, here are the results of our 2009 survey.
Favourite Restaurant
1. Hola Asia. Every year the race gets a little tighter, but every year for the past five Hola Asia has come out on top.
2. Bodo's. A new location this year, but still a top pick. Great service and consistently excellent dishes.
3. Pelicanos. On the square and on the water. A crowd favourite.
4. David Lau's. David has left us, but his recipes & restaurant live on.
5. El Pirata. A wide menu makes this place popular with families.
6. Cantina Habanero. A very popular fun spot in PM.
7. John Gray's Kitchen. Fine dining and choice of visiting celebs.
8. L'Oazis. A very busy and popular place. People love the food and the friendly service.
9. La Suegra. John Gray's Mother in Law. Great food right on the beach, first time on our list.
10. Posada Amor. One of the town's oldest restaurants makes its first appearance on our list.
Favourite Place to Get a Drink - We had a wide variety of answers on this, but here's the top 6.
1. Pelicanos
2. Cantina Habanero
3. El Pirata
4. Bara Bara
5. Hola Asia
6. Bar Ixchel
7. Gioconda
Some people listed their favourite drinks like coffee at Mama's Bakery, Sangria at El Pirata, & Margaritas at Cantina Habanero, Hola Aisa and David Lau's...all supposedly the best in town! (Editor's note: Better try all three and get back to you!)
Biggest Attraction of Puerto Morelos
Pretty obvious here I suppose, it's the beach. Who can argue with that? A lot of responders mentioned the healthy reef and the friendly people of Puerto Morleos. Many love PM because it is laid-back and relaxed, what a vacation spot is supposed to be! Many mentioned that it "felt more like Mexico" than our neighbouring cities or resorts. I think that pretty much sums up what we are all about! Oh...someone did say the Bookstore was the biggest attraction...and it wasn't me...or Mom. Thanks!
Favourite Shop in Puerto Morelos
Once again responders gave in to our veiled threats and voted the Alma Libre Bookstore as their favourite shop. Whether it was genuine love of the bookstore that made you vote for us or the two big guys in ponchos we've had posted outside your house for the last two weeks, we thank you. If you are so inclined, please tell your friends about us and write a glowing review for us on Tripadvisor. There are still a million visitors to the Riviera Maya who don't know we exist! Gracias!
Also mentioned were the popular Mayan Handicraft Centre, the Jungle Market and Mauricio's Hammock Shop.
Favourite Place to Stay in Puerto Morelos
We had a wide variety of answers here, all sorts of places mentioned. Many of our readers own their own places here, but many hotels and private condos were mentioned. Check out our places here!
Favourite Book to Read in Puerto Morelos
We ask this question every year to make sure we are bringing in the correct books and to get ideas of what we should read next. As usual we had a wide variety including: "anything" or anything by James Patterson, Vince Flynn, Nora Roberts, Ken Follett. Many like to read local, like "Where The Sky is Born" or a learn Spanish book (available at los bookstore) Our favourite answers: "Anything at Alma Libre" and "All the restaurant menus".
Favourite Place to visit in the Yucatan other than Puerto Morelos.
Hate to encourage anyone to leave, but we like to explore too. Top answers were Tulum, cenotes, Puerto Adventuras, Xel-Ha, Akumal, Merida, Xcalak, Coba, Valladolid, Isla Mujeras and the Jungle Market. Our favourite answer, "anywhere as long as I can be back in PM by 5:00." (We have some daytrip ideas on our website here)
How many times have you visited Puerto Morelos?
Be careful if you visit us, seems to be very difficult to come here just once! 54% of our responders have been here five times or more. 16% live here.
Where Are You From?
We may be in a tiny town, but our newsletter gets around! Most of our responders were from directly north of us. 66% are from the US and 30% are from Canada. The other 4% are from Europe and South America. Bienvenidos!
What Would You Change About Puerto Morelos
Overwhelmingly the popular answer here was to pretty much leave the town alone, an obvious reference to the recent vote to allow greater population density in Puerto Morelos. Some people did want a larger grocery store, a bank and less trash & potholes. Our favourite answer "I would like for me to be there more often." Si!
*Thank you for taking our survey again this year and congratulations to all those places you picked as your favourites.
Is It Safe?
On February 20, 2009 the U.S. State Department issued a travel alert for people visiting Mexico advising of an increase in violence related to the drug trade. I think the alert was issued mainly for U.S. students who will be going on Spring Break soon. Some of those students drive across the border into Mexico and party in the border towns. It is along the border that most of the recent violence has occurred. The State Department alert never mentions Cancun or the Mayan Riviera.
Too much sun, too much fun and this hole in the street near the Handicraft Market are the only hazards you are likely to encounter in Puerto Morelos.
Then the 24 hour news channels got hold of the story. One "story" I saw on Fox News showed footage of guns and drugs, interspersed with bikini shots of college students around the swimming pool. (Ratings anyone?) They cranked the story until it sounded like the State Department was advising people not to travel to Mexico, which it did not. (They referred to Tijuana as "being like Falujah!") Then panicked posts started showing up on sites like TripAdvisor by confused people thinking a travel warning had been issued and wondering if they should cancel their trips. Unfortunately, not knowing what you are talking about rarely stops people from posting on websites like TripAdvisor, and the story got cranked again with more false information. Then we at the bookstore started getting panicked emails. We've never received emails like this. One actually asked "who was in charge down there?" like our town was in a state of anarchy.
All this seemed crazy to us, as nothing has changed in our area. Yes, there is violence along the US/Mexican border, but that is thousands of miles from here...and it is important to note, an area we just drove through a few months ago with our trailer, and will be driving through again soon along with thousands of other people who drive through the area each day.
Here are some facts. There have been no drug-related incidents involving tourists anywhere near Puerto Morelos, Cancun, Playa del Carmen, Tulum, Valladolid or Merida. Visitors to our area do not need to worry or take any more safety precautions than you would in your own home town. There are often police along the side of the highway, or checkpoints staffed by the military. These are not new, we have been through hundreds of checkpoints all over Mexico (and a few in the United States), normally you will just get waved through. They are nothing to be concerned about.
To stay safe, visitors should refrain from volunteering to be the mayor or police chief of Cuidad Juarez, which is on the border with El Paso Texas. You should also not start any major drug operations anywhere in Mexico or any other country. the established businesses do not like competition.
Keep in mind, this violence is not to keep Mexico supplied with drugs. It is to keep the north supplied with drugs. These gangs are simply trying to satisfy the incredible demand for drugs from the north. It would be real helpful to us down here if the drug users up there could find something else to stick up their noses for a while.
In the meantime, do not scrub any plans to visit Mexico. Any of the main tourist areas and cities are very safe. We drive all over Mexico and have never felt frightened, in fact we could bore you for hours with stories of incredible kindness we have experienced in Mexico. It's why we love it here. Get the facts and fear not!
Click here to read the entire text of the US State Department alert
Here's a video with the US Consul for the Yucatan and actual tourists touting the safety of our area!
Click here to see the silly story from Fox News
Mexico on the Cheap...Come in May!
Tourist visits to our area are up this season. Our theory is despite the economy and the fear mongering...it has been a long, cold winter and folks need a break.
There has never been a better time to visit Mexico. Both the Canadian and US dollars are at historic highs against the pesos, meaning you get more with less dough. Let's say you have a nice meal at one of our restaurants with a bottle of wine and the bill comes to 400 pesos. Last year that would have cost you about $37.89 US / $37.53 Canadian or €24.32 EUR. Now that same $400 peso meal costs just $27.12 US / $34.92 CDN / €21.17 EUR
Impressive savings, particularly for our friends from the USA. To extend those savings even further, come in May. Traditionally our "busy" season is from US Thanksgiving to Easter. Once May rolls around accommodation prices drop. For example, this place on the right that rents for $550 a week during the season drops to $475 once May 1 hits. That's a couple of more meals with wine at a Puerto Morelos restaurant!
May is a great time to come. It will be quieter, but most everything will be open. It will be a little warmer, but the breeze will keep things more than pleasant. The sea will be calmer, so the diving and snorkeling will be even better! Airfare deals should be good too. Consider a May break this year! We've got your place here!
Bookstore Hours - We're open 7 days a week!
Just a reminder that we have expanded our hours this year. We are open seven days a week. Monday through Saturday we will are open 10am to 3pm and 6pm to 9pm. Sunday we are be open 4pm-9pm. Hope to see you at the bookstore this season!
Music in the Park
Just one more edition of Music In the Park this year. Don't miss the final show on Friday, March 20.
It's been another great season for the festival which featured a wide variety of musical acts.
There are always lots of great things going on at the Cultural Centre, why not take a class while on vacation? Dance classes, yoga, palates, aikido and more! Classes for kids, teens and adults.
Developing Ambitions
Local Residents are using legal challenges to halt development plans that have greatly increased population density in Puerto Morelos. A total of three amparros (like an injunction) have been filed. Now they are collecting names and ID's from local residents and homeowners who will claim that they will suffer damages from any new development. They need to raise money to file for damages. The lawyer they have hired is basically working for free, but there are some costs associated with filing. The fees are not that high, so they are hoping to raise the money locally and from people who love Puerto Morelos. if you would like to help, contact the people below.

(note these email addresses are not links to prevent spamming)
Jungle Market and Spa
Big things are happening in the jungle once again. The Jungle Market is back again with an all new show. The show combines pre-Hispanic and traditional Mayan dances. The dancers wear dresses they have created themselves. It's a great show and you are guaranteed to enjoy it.
The show is the highlight, but this is a Market after all! Look for handmade treasures you will not find elsewhere on the Mayan Riviera. There are a variety of homemade treats available as well and a vegetable market with locally grown fruit and vegetables.
Profits from the sale of souvenirs and food go directly to the families who created them.
The Jungle Market runs every Sunday during the season. The market runs 9:30-2:00 with the dance show at 11:30.
Getting there is now easier, catch the special Sunday collectivo at 10:00 am in front of the Mayan Handicraft Centre. They will bring you back too, cost is just 5 pesos.
The Jungle Spa is open every Wednesday & Friday. Pamper yourself for less! Many treatments are available, from manicures and pedicures to a luxurious aloe vera and banana leaf wrap and massage! (or a chocolate massage...does it get any better??)
Spa prices are much, much lower than you will find at your resort or in town. To get pampered, just show up Wednesday between 10:00 & 4:00 or Friday between 10:00 and 2:00. If you can't make it on Wednesday or Friday, try making an appointment for another day. Call Sandra (998) 208-9148.
It's easy to get out to the jungle by car, taxi or collectivo. It's on Calle Dos (kie-yay dose) in the Zona Urbana, which is right behind the Colonia. We have little maps to it in the bookstore.
Remember, your purchase helps the families of Puerto Morelos!
Money Matters
Just a reminder to visitors that there is no place to cash traveler's cheques in Puerto Morelos. The easiest way to get pesos is at the HSBC ATM (ABM) beside the supermarket on the square. If it is out of money, there is another machine at the intersection of the road to Puerto Morelos and the federal highway. There are also two ATMs in town that are not affiliated with banks. One is at the mall across the square from the bookstore and another is at Ojo de Agua hotel. Since these are not affiliated with a bank, we are not sure what the fees are. They are most likely higher than the HSBC machine.
If you wish to cash a traveler's cheque, you can do it at the airport or in Cancun or Playa del Carmen.
---
Facebook
Are you on Facebook? If so, look for our new Facebook groups. Friends of Puerto Morelos & Alma Libre Bookstore. You can also be a fan of Alma Libre Bookstore.
The groups have grown very quickly! Friends of Puerto Morelos just passed 400 members! If you are on Facebook, please join our groups. We'll use them to keep you up to date with town news between newsletters. Check out the group for new photos of Puerto Morelos, taken by visitors.
And if that is not enough for you...you can also follow us on Twitter.
This is our twitter home page. You can follow us throughout the day.
I like Facebook mainly for the photos. Not sure about Twitter, but we're too young to fight new technology!
Home and Condo Rentals - Prices Drop In May
Many visitors are discovering the comfort and convenience of staying in a private home or condo during their Mexican vacation. Many ex-pats have built their dream homes here in PM and are willing to rent it (or a part of it) to you! Renting a place makes you feel more like a local right away and offers the convenience of cooking for yourself and much more privacy.
Regular Beach Readers know that we feature some of these properties on our website. There are a gazillion property rental sites out there, but our site is unique because these are properties we know, owned and run by people we know and trust. We like to think we take the guesswork and risk out of renting.
We're always adding new properties to the site.
Here's one we've just renovated, this can be rented as a one bedroom/one bath with a fold out couch, or as a two bedroom two bath. Each bedroom has it's own outside door to allow entry or exit without disturbing others.

It has a full kitchen with pots and pans, dishes and cutlery, plus appliances like coffee maker, toaster and juicer. Dinking water is included as well as cable TV and wireless internet in season. The suite features a huge terrace with table and chairs and a comfy hammock. All this from $600 a week in season, $550 starting in May!
Here's a new one. A one bedroom two bath with a loft. The loft has a fold out couch and curtains for privacy. The couch in the living room also folds out into a bed.

Off the bedroom and the living room is a HUGE balcony with table and chairs for four and a comfy hammock.

Of course there is a full kitchen with pots and pans, dishes and cutlery, plus appliances like coffee maker, toaster and juicer. Dinking water is included as well as cable TV and wireless internet in season. $650 a week in season, $550 starting in May!
Check out our new, easier to navigate rentals page here.
Owners! Contact us to get your FREE listing on our website.
---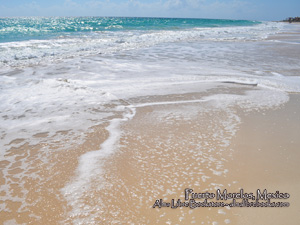 Free Gift From Alma Libre Updated for March & April
For those of you still stuck up North, bring a small piece of Puerto Morelos to your home or office with our new Puerto Morelos Wallpaper. Beautiful of course, and practical too with an December and January calendar built right in. This month's wallpaper is a view of the beach...it appears someone abandoned their flip flops to enjoy the Caribbean!
We'll have new pictures available for download every month! Wallpaper is also available on our website at www.almalibrebooks.com.
Pick your wallpaper size:
1024 x 768 800 x 600 1280x800 CLICK HERE FOR WALLPAPER INSTALLATION INSTRUCTIONS
---
Restaurants: Tea lovers now have a place to get their fix on the square in Puerto Morelos. "Tea Leaves" is now open in the Mayan Riviera Properties building. Lots of loose teas to choose from, plus coffee and espresso for those of us who worship the bean over the leaf. Enjoy your tea with a selection of baked and gourmet goodies.

Yodi's Restaurant on Ninos Heroes has changed their menu and their hours. They are open daily for breakfast, lunch and dinner 8AM to 10PM. Closed Monday.

A few closings to tell you about. Tanino's Wine Bar closed at the end of February. We emptied one of their last bottles with our friend Karla on a recent evening. Also closed is The Mexican Pub & Gourmet Galleria. We are trying to find out if you can still buy La Finca coffee somewhere else in town.
Mull of Morelos - Sometimes visiting groups from other countries will showcase their culture for PM folks. That is happening again at the end of this month in the town square. The Bev Hughes Highland Dancers from Burns Lake, BC will be performing traditional Highland Dancing to a real live piper! I can't wait to hear the pipes right on the bookstore's doorstep. That's March 31 at 7:00 PM in the square. The group will also be performing through the week at various locations around town. Don't miss this wee bit of Scotland in Puerto Morelos.
Unplugged Blues - Caktuz Bar & Grill is now presenting music on Wednesday evenings. It's an unplugged version of the Men in Blues. Music starts at 8. (This is in addition to their regular Saturday night gig at 10pm.)
Construction continues on the square. It is going to be a nice park with shade and places to sit. Diagonal parking too, much needed!
The new public access beside the Amar Inn is completed. Looks great and no more cars getting stuck in the sand!
The pothole repair crew disappeared again. Sigh.
Recycle - The last Saturday of every month is recycling day in Puerto Morelos. Bring your glass, paper, aluminum cans, cardboard, plastic, batteries, electronic appliances etc. to the taxi center near the plaza or in the plaza in the Colonia.
Cost of Living - Found this excellent article that answers one of our most frequent questions: What does it cost to live in Mexico? It was written by the good people at Yucatan Living in Merida. The costs they list are very similar to ours in Puerto Morelos. Their blog has been nominated as one of the top ex-pat blogs by Lonely Planet. We think they should win, so click here to vote for them, they need 100 votes stat! Contest closes on March 20.
Valladolid is redoing all the streets around their town square. Looks good and is only creating a little traffic chaos. We visited the city museum near the square for the first time a few weeks ago. Valladolid is an easy daytrip by car or bus from Puerto Morelos. See more info on our daytrips page.
We've received a lot of kudos for our "How to arrive at the airport and get to Puerto Morelos" webpage. It contains tips that could save you time at the airport and get you on the beach quicker. Have a look and share it with your fellow travelers. All we ask in return is to allow us to be your official book supplier for your trip!
More things to do: We recently revised our popular "10 things to do in Puerto Morelos" list on our website to "12 things to do in Puerto Morelos". Check it out here. Features a printer-friendly list you can give to new visitors to our town.
Our weather station is offline right now, but will be back online soon.
Now a personal message to our friend Joan, who came to Puerto Morelos, but left too quickly. Joan, come back soon...the ice cream guy misses you terribly! Your two-cone-a-day habit was keeping his business afloat. Get well soon!
Did I miss any local news? Let me know!
Cambi-Oh!: Once again the bookstore is short of change. We simply cannot get enough 5 and 10 peso coins or 20 peso bills. If you find yourself weighed down or you are always jingling around town...stop by the bookstore and we will lighten your load and exchange your coins for bigger (and lighter) bills. If you are up north, check the dresser drawers for cambio and repatriate those coins!
This Newsletter is being sent to you on a new server. It charges us for each individual email that it sends out, so if you are receiving this email more than once, please unsubscribe the extra addresses. Because it charges us for each email, it is very careful to ensure all the addresses are valid. If it has trouble getting the email to you, it will delete your name and never send you another email. If you were receiving our email, but now you are not, try signing up again using the form on our web page. This "double-opt-in" system is much more accurate and should ensure you continue to receive this newsletter. You can try adding our email address to your contact list too, so that your spam blocker doesn't delete us. Gracias!
Don't hate us, we've added Google Ads to the newsletter in an attempt to cover some of its costs. We have no control over the ads that pop up, Google decides that, and we are in no position to tell them what to do! Please let us know though if anything odd shows up. Please note, these ads don't begin to cover our costs for this newsletter. If you like this newsletter, please support it by buying books at Alma Libre. Gracias!
Current Exchange Rates (In Puerto Morelos)
USA Dollar 13.80
CDN Dollar 10.30
Your Place in the Sun for $40,000
Our friend Shawn of One Stop Real Estate in Playa del Carmen has made it possible to own a beautiful place in Mexico for less money than you ever thought possible.
This is an opportunity to pick your lot in a new community on Lake Bacalar. Shawn has sold real estate for years in our area and wanted to create a place that was made with the residents in mind. Lots are big, more than 8200 square feet, meaning everyone can build a big house with a big garden and a pool and still not be on top of their neighbour. Each lot will have access to top-notch infrastructure like buried services, paved streets, parks, tennis courts, and a special private park access to the lake.
They have put a lot of thought into the project, even into such details as a special entrance for service vehicles so that nothing will disturb the tranquility of the neigbourhood. The community will have old world charm with modern conveniences and easy access to the town of Bacalar and our state capital, Chetumal and its airport.
Bacalar is a special place, and this is one of the smartest and best-planned communities we have seen anywhere. Buy your lot now, and build your house when you are ready. You've never had a better opportunity for a place in the sun! For more information, check out their website.
If you contact Shawn, please mention you saw this in the Alma Libre Bookstore newsletter.
---
This Just In! Books & Products at Alma Libre
Read all about it!
We love to keep you up to date with the town, but it's books that pay the bills. Have a look at some of the titles we're most excited about...
Cocina de la Famila - Foodies know that what passes for Mexican food up North is not the same thing as they are cooking down here. That's why we are very proud to have this book. They author visited hundreds of Mexican families and collected their best recipes and compiled them in this book. This ain't no Taco Bell...this is the real thing.

"We had friends over for dinner last night and I made, among other things, this book's chiles rellenos, racy red salsa, pickled vegetables, and sangria. Everything was quite tasty and really quick to make." Amazon.com Review

Traveler's Guide to Mexican Camping - If you are contemplating driving down here with your RV, you need this book. Traveling in Mexico by RV is an excellent option, but to enjoy your trip you need this book. I even recommend it to people who are just driving down here from Canada or the US as the border crossing and big city bypass information alone is worth the price of it.

This book and a Gui Roji Road Atlas (2009 version available at Alma Libre) are your best bets for a safe and happy driving holiday in Mexico.




Cortes and Montezuma - The incredible chain of events that led to the conquest of an entire culture in Mexico by a handful of Spaniards is an amazing story. This retelling by Maurice Collis is well written, factual and very readable.

The complex characters and motivations of both central figures are explained in detail. According to Collis, Montezuma was a generous, devout and able ruler, but at the same time he was a tyrannical monster who indulged in endless orgies of ritual murder; Cortes was a civilized and enterprising explorer who brought enlightenment to a oppressed land but he was also the bringer of death and destruction to a complex and fascinating civilization. The author also explains the amazing astrological-magical religion of the Mexicans and how it made the conquest possible. - Amazon.com

Mexican Slang 101 - This book is the phrase book for those who want to really "talk the talk" and speak the way the locals speak. You'll find hip expressions like the proper way to say "cool" or "bummer", right down to the nastiest insults you can imagine. There is enough information in this book to be the life of the party, or get beaten up. Be careful how you use this book! Cover price is only 50 pesos or 5 bucks. Makes a great gift or gives you some training that Berlitz just is not going to give you! This book has quickly become a bestseller. Makes a great souvenir or gift.

Birds & Fish - We share our beautiful area with some of the world's most interesting creatures. Every day we see wildlife in and around the town, from big birds to slithering reptiles and everything in between. To help you get to know your neighbours better, we offer several guides. For an overall view, you can't beat this book, the Traveller's Wildlife Guide to Southern Mexico by Les Beletsky. A gorgeous book packed with information and pictures. Covers fish, ,mammals, reptiles, birds and a little about the plant life here.

For more detail, we offer a choice of bird guides and our popular snorkel guide.

Spanish Language Learning Software- Now available for the Mac! - Since moving to Mexico, Joanne and I have struggled with our Spanish, especially those nasty verbs. Now our friend Jacky has invented a fun way to learn your verbs. Her Amigos Spanish program has full conjugation for 700 verbs and helps you learn with tests and puzzles. The program is totally customizable, allowing you to focus on the verbs you need to know. Plus it's fun, so you will stick with it and learn those verbs. To expand your vocabulary, try Amigos Spanish Puzzles a program featuring word games with English clues and Spanish answers (or vice versa). The program comes loaded with 2500 words, and you can even add your own words if you like! Both programs are available on CD exclusively at Alma Libre Bookstore.

Secrets of the Talking Jaguar is the story of the author's physical and spiritual journey from the Southwestern US to the highlands of central America. There he becomes apprenticed to a local shaman who teaches Pretchel much about indigenous Mayan life, and about life in general. We sold out of these last year in hardcover, this year we were lucky enough to get some soft cover editions. If you missed this book last year, don't miss it this time.
SPECIAL OFFER for Alma Libre Bookstore Customers

Cenotes of the Riviera Maya is the best book ever written about the cenotes in our area. Beautifully photographed, it could easily be called a coffee table book, but it is also has all the practical information you need to explore the cenotes whether you are swimming or diving. Many have drooled over this book, but the hefty (500 peso) price tag kept some people away. Now author Steve Gerrard has authorized us to lower the price. At 300 pesos, this book is an incredible bargain and it has been flying off our shelves...in fact we ran out for a while around Christmas, but we're stocked again.

Maps!

If you drive in our area, you need a map! We have excellent and detailed maps of the Yucatan, the country of Mexico, Cancun city, Merida as well as Belize, Guatemala, Cuba and Central America. We also have souvenir-quality maps you can hang on the wall.

This year we also have a good supply of "Map Chick" Mayan Riviera maps. These incredibly detailed maps will lead you to the best of the Mayan Riviera including restaurant and accommodation recommendations. This map has the most detailed map of Puerto Morelos ever made, as well as Puerto Adventuras, Akumal and the entire Mayan Riviera corridor.

Maps are usually difficult to find in Mexico, but only if you are looking in the wrong place! Plot a course to the bookstore...if you get lost...ask for directions...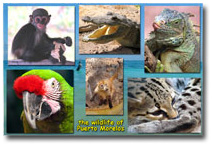 Postcards! We've added a lot of new postcards to our collection, including more underwater shots by "Dive Diva." We have the largest selection of Puerto Morelos postcards, and they are all exclusive to Alma Libre. We know because we make 'em! We also have blank greeting cards to cover any occasion you may wish to celebrate while you are in paradise. We even have some Christmas cards this year!
Gift Certificates! A nice gift idea for someone who lives here is an Alma Libre Gift certificate. Available in any amount and can be used for new or used merchandise. We can accept payments from up north via Paypal.
---
Photos of the Month
| | |
| --- | --- |
| | |
| Carnival!: Merida loves a parade, so much so that there were often two a day. The night parades are my favourite. Carnival in Merida is an annual ritual for us. | Meat me in Merida: This guy was slicing al pastor as fast as he could. He made a burrito for us that was out of this world! Al pastor is meat, usually pork marinated for several days and then cooked in a rotisserie with a pineapple on top. The dish originates from Mexico City with some elements borrowed from Lebanese immigrants. It is best when it is freshly sliced from a busy rotissserie. |
| | |
| Furniture: This dining room table and chairs was custom-built for us by a local carpenter. The design is based on a picture we found in a magazine, this guy can copy anything or build to your drawing. The price was much less than we could find in stores and the quality much higher. He also built us a king bed with a big headboard and drawers and now he's making more muebles for us! | Mister Sandman: Found this guy snoozing on the beach on a recent Sunday. The good news is that the sand makes an excellent sunscreen...though the urge to place-kick that soccer ball was almost more than I could bear! |
---
Advertising:
---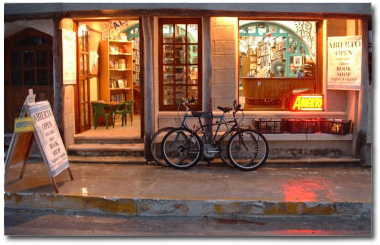 Just a reminder that we are open seven days a week for the season. Our hours are Monday through Saturday from 10:00am to 3:00pm and 6:00pm to 9:00pm. We are closed between 3:00pm and 6:00pm for siesta. Sunday we are open 4:00pm to 9:00pm.
Our hours are always posted on the front page of our website at www.almalibrebooks.com.
We take trades every day, so our selection is constantly changing. If you are planning a trip down, why not bring some recent bestsellers to trade and check out our store, or plan to buy all your reading material at Alma Libre. We got you covered!
If you live here, we can special order books for you. It is not a quick process, it usually takes a month, but our prices are much better than Amazon's. Let us know what title you would like and we'll provide a quote.
We look forward to seeing you in Puerto Morelos!
---
Beach Reads is the official newsletter of Alma Libre Bookstore in Puerto Morelos Mexico. It is mailed directly to your mailbox if you request it. Beach Reads is published on a sporadic, seemingly random basis...but it is supposed to be approximately monthly during the season at Puerto Morelos. The season is November until after Easter. We do our best to publish it regularly...but we are easily distracted...
Our website is located at www.almalibrebooks.com Our store hours are always on the home page.
If you do not wish to receive this newsletter, please Click Here To Unsubscribe
This is Year #7, Issue #3. March 2009
To subscribe or make comments or suggestions or advertise your local event, please Contact Us
Retransmission & Redistribution of this newsletter without express written consent is just fine by us! Send this newsletter to a friend! (or get them to sign up for their own copy) If you like the newsletter, please support it by buying a book at Alma Libre Bookstore.
Text & Photos ©2009 Alma Libre Bookstore